2 tags
Sing Harmony With Yourself
Do you love to sing? Do you love to sing in harmony? Do you have trouble finding other people to sing harmony with? Did you know you could sing harmony with yourself? Check this out: http://www.homebrewaudio.com/kens-vocal-harmony-experiments/
2 tags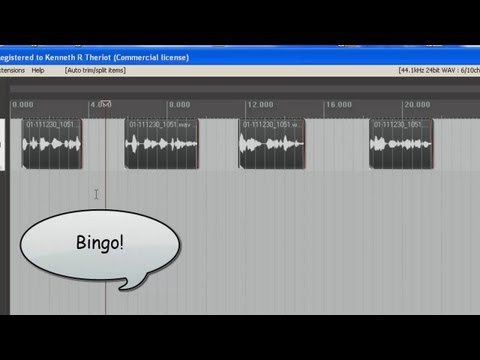 1 tag
2 tags
1 tag
1 tag
1 tag
2 tags
The Fast-Track Home Recording Studio Starter Kit
We asked B&H Photo-Video-Audio if they would put together a home recording starter bundle to our specs and they did! It contains everything you need to start recording pro audio on your computer. The entire thing costs $224.95 with free shipping. Check out the details here: http://www.homebrewaudio.com/home-recording-studio-starter-bundle/
3 tags
1 tag
1 tag
What Mic Did Rachel and Blaine Use On Glee "The...
Just watched the October 4th, 2012 episode of Glee, "The Breakup." There is a scene in a New York club called "Callbacks," where Rachel sings Demi Lovato's Give Your Heart a Break and Blaine sings Katy Perry's Teenage Dream. Since they're supposed to be performing in a bar, they are using microphones, which they don't usually do on Glee. Anyway, this mic was...
2 tags
How Not To Set Up Your Home Recording Studio
Somebody asked me why he wasn't able to do multi-track recording, and when I saw his set-up, I knew why.  The big trouble was that he used a mixer (an analog mixer designed mainly for live performance) as the center of his home recording set-up. We always recommend you NOT have a mixer "in the mix" ;).  You don't need one for today's home recording studios. See our...
3 tags
5 Audio Tips I Wish I'd Known As A Newbie
Here is part 1 of a 3-part series on some really important things it took me years to understand about audio when I was a newbie.  So by reading these 3 articles, you don't have to wait all that time!  You can use my learning curve to download the info right into your brain. Part 1 is about stereo, which is quite important, especially if you are recording music at all.  Check out the full...
2 tags
Victoria Azarenka Wore Powerbeats By Dr. Dre...
Victoria Azarenka was seen wearing some cool-looking red ear-bud type headphones at the US Open.  They were Powerbeats By Dr. Dre In-Ear Headphones.  Find out more here: http://homebrewaudio.co/victoria-azarenka-wore-powerbeats-by-dr-dre-in-ear-headphones-at-us-open/
1 tag
Microphone Used By Chair Umpires At US Open Tennis...
I noticed that the microphones being used by chair umpires at the US Open Tennis Championships were huge.  I'd never seen mics that big, so I started searching the web only to find nothing.  I searched for days looking for "large microphone used by chair umpires," and "tennis chair umpire microphone" and nothing, zip.  Then my wife froze the TV when it was showing one...
5 tags
Announcing The Release Of The New Reaper Tutorial...
We are proud to announce the launch of our latest home recording tutorial course, The Newbies Guide to Audio Recording Awesomeness 2: Pro Recording With Reaper.  This is the long-awaited sequel to our first tutorial course, which used the free Audacity software to teach the basics of home recording. The new course is a serious step up in recording capability and power, using the professional (yet...
1 tag
Hardware Control Surfaces For Recording Software?
It is somewhat ironic that audio recording has moved almost entirely into computers, making it more powerful, capable, efficient and perhaps most importantly - affordable; but that hardware is now being manufactured to control the new recording software.  It's like these hardware control surfaces are physical models of the software, which are virtual models of the...
Does The XJS 5000 Dictaphone (From Suits) Exist?
If you like the USA series "Suits," AND you're a recording gadget geek like me, you probably noticed in the last episode (June 21st 2012) that the character of Louis Litt opened a present he discovered on his desk and found inside a hand-held audio recorder of some kind.  It was labeled XJS 5000 Dictaphone.  Well I immediately wanted to know what it REALLY was, since I'd...
3 tags
Record Your Voice So That It Sounds Awesome
If you record your voice for anything other than talking to friends and family, as part of your internet business perhaps, then you might very well be missing a cheap and easy opportunity to move from amateur to professional in the way you present yourself or your product. It may just be something as simple as moving from a small headset type of mic (yes, I know they're convenient,...
What Is A Microphone Preamp?
If you ever have wondered what a mic preamp (or microphone preamplifier for long) is - and who hasn't?:) - you can have your answer in the latest article at Home Brew Audio (the new site where the new articles are going) here: homebrewaudio.co/what-is-a-mic-preamp. As with a lot of the scary sounding terms in the audio recording world, mic preamp is really not all that scary when you get...
2 tags
Building Your Home Recording Studio - The...
  Part 5 (the last - whew!) in the series called "How To Build A Home Recording Studio" just went up at Home Brew Audio - www.homebrewaudio.co In this article Ken discusses the bits and bobs that are needed in order to properly use the mics and interfaces that are the core pieces of gear in a computer based home recording studio.  These accessories include scissor swivel mount mic...
4 tags
How to Build a Home Recording Studio - Part 3 -...
Part 3 of the "How to Build a Home Recording Studio" series was published today on the Home Brew Audio website.  This installment digs into the kinds of microphones you'll need for both kinds of home studios (configuration #1 and configuration #2) - in order to get into the realm of pro audio. For configuration #1 (where it's just a mic going directly into a computer),...
tumblrbot asked: ROBOTS OR DINOSAURS?
My Sennheiser MKH 416 Review - The Movie and...
The Sennheiser MKH 416 is my new favorite mic.  I got to use one for a couple of weeks thanks to B&H Photo-Video-Audio, who sent it to me to review.  I'm actually a bit sad to have to send it back.  But as soon as the old budget allows, as Will Smith said in Independence Day - "I have got to get me one of these!" The mic is well known in the Film, TV and voice-over...
2 tags
Building A Home Recording Studio, Pt 2: Preventing...
The second article in the series How To Build a Home Recording Studio, Ken offers 4 tips for preventing noise - from keeping the leaf-blowers and trucks out to reducing room sound, the echo-y reverb-y thing that is the hallmark of amateur audio. Also there are some products recommended.  If an acoustically-treated isolation booth is not in your budget (or does not make logistical sense) at...
5 tags
Setting Up A Home Recording Studio With Your...
Here is a post that is the first in a series explaining not only how to build a home recording studio using your computer, but also how to get the best possible audio quality from it for the least cost. These posts will explain two types of gear configurations and offer 4 tips for creating the clearest and cleanest audio possible.  You'll also learn how to step into the...
2 tags
Home Recording Equipment Starter Bundle
After so often giving out recommendations for what kinds of gear you might need for a home recording studio to get started recording professional audio at the lowest cost, and not finding a ready-made bundle at the on-line recording equipment stores, I finally was able to put together my own suggested home recording equipment starter bundle - and B&H Photo-Video-Audio created for me. ...
If You Want to Be A Famous Singer You Need...
Lots of people dream they will become a famous singer one day.  The problem is that these same people rarely have any clue as to HOW to make their dreams happen.  Do you get an agent?  Do you try to join a band?  Do you make a YouTube video and pray it goes viral (fat chance)?  Maybe you feel like you need to move to Los Angeles or New York or Nashville. There certainly are a lot of ways to...
3 tags
How To Create A Stereo Effect For a Voice
Here are three methods for recording stereo voice.  Actually, one of these ways creates a stereo effect after a vocal has already been recorded.  Why would you want to do this?  Well, there are times in music recording or in voice-over work, especially radio ads ("Sunday, Sunday SUNDAY"), when you want a special effect for the main voice.  In music, doubling and then panning a...
What is Re-Amping?
Ever heard of re-amping?  It's a neat little trick you can do with audio you have already recorded, especially electric guitar - though the concept is valid for anything.  The idea is that instead of recording your electric guitar by mic-ing the amplifier, which is the usual way to do it, you record a non-amplfied version of the guitar part.  Then after it is recorded, you route that...
Audio-Technica AT2035 Microphone - A Review
Here is a new review of the large diaphragm condenser mic called the AT2035, by Audio-Technica. to really step up the quality of your audio firmly into the professional zone, you need to have a large diaphragm condenser microphone (sometimes called an LDC mic), especially if you will be recording voices, both for music and for voice over purposes. Audio-Technica is a respected manufacturer...
What Is a Mixer Bus?
What is a mixer bus? You may have seen the term "buss" or "bus" in relation to audio and mixing.  But did you understand what it means?  Well fear not.  This, as with so many audio terms, is actually easy to understand.  Why so much of the terminology is not easily descriptive is a constant source of frustration to me and lots of folks.  So I try to de-mistify this stuff...
Review of The CEntrance MicPort Pro Portable USB...
Audio Interface review - I reviewed a very cool little device yesterday that is about the size of a lipstick case, and yet it is a professional audio interface you can put in your pocket (if you need to) and take with you wherever you go.  It's called the CEntrance (no, that is not a typo) MicPort Pro. You plug any standard microphone (by "standard" I mean witha  3-pin XLR...
Connect a Microphone to a Camcorder
Microphone to camcorder - One of the biggest frustrations I have with making professional video with a camcorder (it IS possible these days) is getting the audio to sound good.  All too often I see people putting out videos that look great and sound terrible.  The first thing I always recommend is to try your hardest to buy a camcorder that has an external microphone input.  But even then, the...
Keeping Your Song on the Beat - Click Track or...
Keeping a song at the same tempo is not always easy.  Sure, if you play live you're not listening to a click track, so it is possible for humans to do, clearly.  But when you're recording a song, there are other issues, especialy in this day of computer recording.  For example, you may discover that there was a guitar buzz on one verse.  It's easy to just copy the guitar part...
Guitar Recordings For That Thing You Do Cover –...
Line 6 POD Farm - Folks were asking how the guitars and bass were recorded for the cover of That Thing You Do that I put out last week.  They wanted to know if I used amps, and if so what kind.  Also folks were interested in what microphones I might have used on the amps in question.  Well as it turns out, I didn't use an amps at all. I used fake or modeled software versions of amps.  I...
Cover of "That Thing You Do" – Record a Rock Song...
If you were wondering whether it was possible to record a song, specifically a rock song, on a (very) modest home recording studio, take a listen to this.  It's a 1-man-band cover of the song That Thing You Do, (written by Adam Schlesinger for the movie of the same name) recorded from scratch on my computer-based home recording studio set up in a spare bedroom.   Why did I do it (other...
Always Keep Up On New Audio Recording Gear
New equipment for your home audio recording studio is being unveiled every day. You can keep informed of all new arrivals for pro audio gear as it arrives at B&H Photo-Video-Pro Audio by checking in with us as often as you like.  The link will take you to the B&H page for just pro audio gear, and just the absolute latest newest releases.  They update it every day. Here is the page to...
1 tag
Finish Long Voice-Over Jobs Faster
Here is a tip that can really help you shorten the process of recording and producing long voice-over jobs, such as audio books, or any other job that requires reading and recording paragraphs of text at a time.  Very few of us are perfect, and we often make little mistakes as we read.  This tip will allow you to keep on going without stopping the recording process, while at the same time,...
3 tags
Quickly and Accurately Cutting, Copying and...
It is very handy to know how to quickly and accurately cut, copy and paste audio.  It's especialy useful when dealing with music.  You can slice up a song to make it longer or shorter, or if you are recording your own song you can copy bits that are particularly hard to play or sing, but that repeat throughout the song.  Just play it right one time and then copy and paste it whenever it...
Audio Recording Gear Deals
We at Home Brew Audio (www.homebrewaudio.com) just started something new to help you keep up with the latest deals on audio recording gear.  B&H runs rebate, (instant and mail-in), discount and free shipping deals all the time.  We will attempt to make you aware of all the deals as they occur and in time for you to check them out before they expire.  Sometimes they only last a few days! ...